Get A Fully Customizable Computer Software Package That Runs Right on Your Computer Screen!
Between your Home and your Office
How many Hours Per Day do you spend at the computer?
Here's a way you can put those Hours to Good Use
and Change Your Mind For the Better
And Your Life!
What If --
you could send Subliminal Messages to your mind, multiple times over....
....right through your Computer Screen to to Change your Mind and Life for the better?

What is Subliminal Messaging?

Subliminal-Messages are messages which are displayed for such a short period of time- over and over, that your mind does not consciously register what it sees: but the sub-concsious instantly understands them, accepts them, and acts on them

Subliminal messaging is a technology that has been around since the 70s. It involves getting a message straight through to the subconscious mind without it being "intercepted" by the conscious mind.
Now you can have all the benefits of Subliminal Messages in a Special Fully Customizable Computer Software Package that runs on Any Windows application.

Once installed, it quietly starts up with your computer and runs in the background, constantly flashing subtle random-area, low-contrast, 100-millisecond messages while you work.

See more on how Subliminal-Power works here. SEE FAQ




Let's review what you'll be getting for your money:
Subliminal Power software:
runs on any version of Windows

Life Success modules:
19 professionally created programmes

PLUS BONUS"GetMotivated!"module:
feel inspired to GET-UP-And-GO!

Rock solid guarantee:
with full e-mail support!

... All For Just $29.95!

$29.95
Order
Download


Get the CD Rom and install it both at home and at work!

$49.95
Order CD




The Subliminal-Power Software Package comes complete with a Collection of 19 Life Success Modules, each containing dozens of expertly written, ready-to-run subliminal messages to simply plug straight into Subliminal Power...Or..
You can Customize them for your Exact needs!


See the 19 Life Success Modules Titles
Click Here

Your subconscious will pick up on every single message and use them to Quickly Change Your Life in unbelievable ways.



Just released in April 2003, Subliminal Power incorporates everything you need to get up-and-running with the power of subliminal messages.
You'll find a full message editor, allowing you to create your own subliminal messaging modules.

You'll find a comprehensive settings screen, enabling you to customize any of the default display options to your exact requirements.

You'll find a music area, which enables you to pick relaxing music to play in the background -
or select any of the Baroque "60 beats per minute" music that we'll send to help synchronize your brainwaves and get into a receptive "flow" state.

Subliminal-Power was built for you.

Subliminal-Power Will Work for you!
Subliminal-Power will sit on your machine and quickly and quietly change exactly what you want to change.

That's the power--You're in control! .

ACTUAL PROGRAM
SCREENSHOT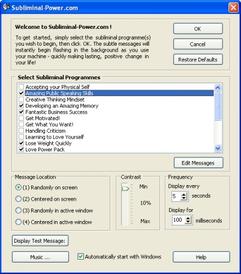 ---
---



Now you can unleash your ability to become successful and prosperous by sending subliminal messages to your mind, over and over.
Perhaps you'd like supreme confidence?
A photographic memory?
The ability to pass that examination with flying colors?
Greater wealth and business success?
An exciting love life?
Amazing public speaking skills?
Razor sharp wit?
What do you want?

How would you feel if you had it, right now?
How would you feel if I told you it was all possible? 

Introducing the World's Only Subliminal Messaging Software.

It's powerful. It's safe. It takes everything 10 steps further than ever seen before.

It's Subliminal Power - and you are in control.

$29.95
Order
Download


Get the CD Rom and install it both at home and at work!

$49.95
Order CD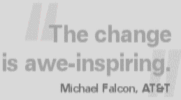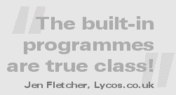 Ready to Change Your Life?
Get Started Today!

Order Download
SUBLIMINAL-POWER




You can pay securely over the Internet using Visa, Mastercard, Delta, Switch, Solo, American Express, Discover, Diners Club, Eurocard, JCB and other cards. You may also choose to pay by Paypal and also be given the option to pay over the telephone, or by mail through a US or UK cheque

---
---
Can I really make Major Changes in my Life?

There have been hundreds of scientific research studies performed on this intriguing area and every one has proven that subliminal messages do work and can make amazing changes in your life, in a short period of time.

The most famous experiment involved flashing the phrases "drink more coke" and "I want popcorn" for just 100-milliseconds in front of a movie audience.

Nobody "saw" the messages, however popcorn sales shot up 57.8% and coke sales rocketed 18.1%. And that was with just one message. You can find many more proven experiments with a simple Internet search.

We spent one whole year developing Subliminal Power to ensure it goes ten steps further than such any existing subliminal products and have so far experienced an incomparable 100% customer satisfaction rating.
Amazing Subliminal Power Features

Subliminal-Power is an exciting and fully-customizable studio package that will run on any Windows machine.

Once installed, it silently starts with your computer and runs in the background, constantly flashing subtle random-area, low-contrast, 100-millisecond messages while you work.

You could be playing a game, typing a letter or surfing the Internet - but your subconscious will pick up on every single message and use them to change your life in unbelievable ways.

Get Started Today

Purchase
SUBLIMINAL-POWER